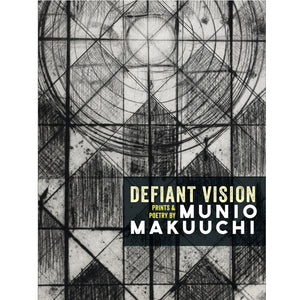 SCMA
Defiant Vision: Prints & Poetry by Munio Makuuchi
Regular price
$20.00
$20.00
Unit price
per
Defiant Vision: Prints & Poetry by Munio Makuuchi brings overdue recognition to printmaker and poet Munio Makuuchi (1934-2000). Despite his multiple academic degrees, Makuuchi often lived and worked outside the mainstream. Makuuchi was deeply affected by his incarceration at Minidoka, one of ten camps built to house Japanese and Japanese Americans forcibly removed from the West Coast during World War II. This was only the first of a series of personal challenges that shaped him as an artist. Yet, the more obstacles he faced, the more doggedly he pursued his vision.
This is the first catalogue and only volume published on this largely unrecognized American artist and it places him within his social, historical, artistic, and literary context. The catalogue is fully illustrated and beautifully designed by Carolyn Eckert.
Introduction and essay by Aprile Gallant, Associate Director of Curatorial Affairs/Senior Curator of Prints, Drawings and Photographs, Smith College Museum of Art.
Selected Poems of Munio Makuuchi
Essay by Floyd Cheung, Vice President for Equity and Inclusion; Professor of English Language & Literature and American Studies Smith College
Essay by Margo Machida, Professor of Art History and Asian and Asian American Studies University of Connecticut
Defiant Vision: Prints & Poetry by Munio Makuuchi, fully illustrated in color, 160 pages 
Price: $20.00

Member Price: $18.00
---