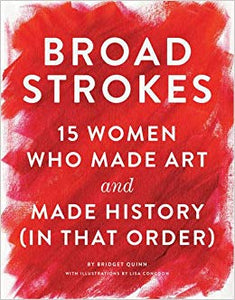 Scmashop
Broad Strokes: 15 Women Who Made Art and Made History (In that Order)
Regular price
$30.00
$0.00
Unit price
per
Bridget Quinn is a graduate of New York University's Institute of Fine Arts and a sought-after speaker on women and art.  Broad Strokes: 15 Women Who Made Art and Made History (in That Order), published by Chronicle Books in 2017, has been translated into four languages and selected for the Amelia Bloomer Book List of recommended feminist literature by the American Library Association.
Lisa Congdon is a Portland, Oregon–based artist and author.
"Historically, major women artists have been excluded from the mainstream art canon. Aligned with the resurgence of feminism in pop culture, Broad Strokes offers an entertaining corrective to that omission. Art historian Bridget Quinn delves into the lives and careers of 15 brilliant female artists in text that's smart, feisty, educational, and an enjoyable read. Replete with beautiful reproductions of the artists' works and contemporary portraits of each artist by renowned illustrator Lisa Congdon, this is art history from 1600 to the present day for the modern art lover, reader, and feminist."
---