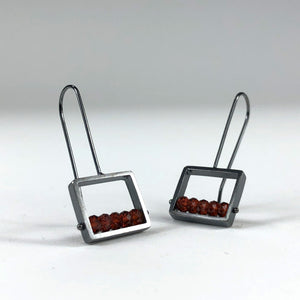 SCMA Shop
Framed Jewel Earrings
Regular price
$90.00
$90.00
Unit price
per
These Framed earrings are made by metalsmith Ashka Dymel. Meticulous fabrication and attention to detail are hallmarks of her work. Hand formed sterling silver in a blackened oxide finish with a row of faceted garnet beads.
"My approach to jewelry making and design is informed by my architectural training. Modernist movements such the Bauhaus School, Russian Avant-Garde art and mid-20th-century design aesthetics are my main inspirations. My goal is to achieve harmony in modular repetitions and variations on geometric forms. Primarily self taught, I avoid traditional stone setting techniques and connections. My work is recognized by unique method of capturing stones within metal frames creating negative space as an integral part of composition. Use of thin wires to hold the elements together is another non-traditional technique allowing for movement and structural flexibility. Combination of unique materials and methods results in a joyful pieces of wearable art." - Ashka Dymel

All the work is handmade in Brooklyn using sterling silver, 18k gold bimetal and semi precious stones and minerals.
Size:  1 3/8" High by 1/2" wide

Price: $90.00
Member Price: $81.00
---