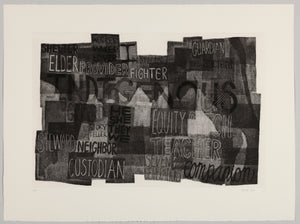 SCMA Shop
Companion Species (words), 2017, Marie Watt
Regular price
$850.00
$850.00
Unit price
per
Companion Species (words), 2017
Soft-ground etching, aquatint, drypoint and burnishing printed in black on medium weight, smooth, warm white Hahnemuhle paper.
Printed by Julia D'Amario assisted by Kathy Kuehn
Plate: 11 7/8 in x 17 3/4 inches; Sheet: 16 3/4 in x 22 1/2 inches Price:
Signed by Marie Watt

Price: $850.00

About Shipping
Print Workshop prints do not qualify for the Free Shipping discount offered for all orders over 75.00 on the SCMA Shop website. All works from the Print Workshop will only be shipped domestically and internationally via FedEx. Once you have placed your order we will contact you to verify the shipping time-frame and address and associated costs. You will then receive a invoice order for the cost of shipment.
About the Smith College Print Workshop

The Smith College Print Workshop
 is an annual program that brings prominent visual artists and master printers to the studio classroom to collaborate on a limited-edition print.
The primary goal of the workshop is to expose students and the general public to the creative process of a wide variety of nationally-known artists, as well as to the complex give-and-take between artist and master printer. In addition to observing the development of a print over the course of several days, students are given an invaluable opportunity to gain experience by assisting with the making of a print.
A limited number of prints from each workshop are made available for sale. Proceeds from these sales fund the endowment for future workshops to continue this vital educational opportunity for Smith students and the community. 
---